What Does Rob Offer Your Business?

First and foremost, Rob is an aviation writer who brings his boundless enthusiasm and many years of experience reporting in the aviation and aerospace industries to your news organization or group.

If you represent:

A general audience media outlet requiring immediate expertise on an aviation-related topic...
An aviation publication looking for beat reporters, or a feature story...
An aerospace business seeking a technical writer to publish your press release or white paper...
An advocacy group that needs a clear and engaging voice to spread your message...

Rob presents a clear, professional, and informed voice to spread YOUR message and tell YOUR story!
Who is Rob Finfrock?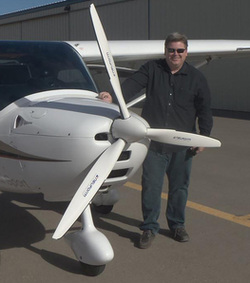 An FAA-certificated sport pilot, Rob has been actively involved in the aviation community for more than 15 years. He has authored thousands of news releases and feature items for numerous aviation businesses and industry advocacy groups catering to business aviation professionals.

Since 2005, Rob has reported on a variety of events and topics of critical importance to the aviation industry, including four years as Managing Editor for an online aviation news service focusing on general aviation, commercial airlines, business aviation and aerospace. He's covered a broad variety of breaking news affecting the aviation community, and reported on-site from industry trade events including HELI-EXPO, the National Business Aviation Association (NBAA) annual convention and EAA AirVenture/Oshkosh; international events such as the European Business Aviation Convention & Exhibition (EBACE); and has spoken with leading executives, CEOs, regulatory officials and other notable figures within the aviation community.

Rob's work has been published by Aviation International News, Flying magazine, the Aircraft Owners and Pilots Association (AOPA), the National Business Aviation Association (NBAA), Helicopter Association International (HAI) as well as several other companies within the global business aviation community.
---